How to repel indoor and outdoor lizard without compromising the health of non-targets?
Earth-friendly Lizard-X Organic Bio-Spray  contains botanically ingredients  which are safe to non-targets but are highly effective to dehydrate lizard upon contact and to repel lizard from residing in your home.
This product is safe for food preparation areas, pet areas and child-frequented areas and friendly to our environment.
How to apply Lizard-X Organic Bio-Spray?
Apply Lizard-X by spraying directly on lizard. It will dehydrate lizard slowly upon contact.
Where to apply Lizard-X Organic Bio-Spray?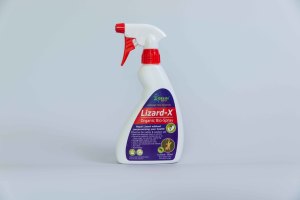 Lizards can be spotted easily under lighting area at night, inside letter box, cabinet drawers, and behind wall picture frame. They often leave traces behind like their droppings.
For lizard preventive strategies, spray Lizard-X directly on wall surface area frequently occupy by lizard. Wipe off  excessive Lizard-X liquid with paper towel or cloth.
Allow Lizard-X active ingredients that you apply on the surface to work for you. It will repel current and future lizard from residing there.

To apply on fabrics or other non-porous surfaces, allow product to remain on surface.
For hard flooring, caution is needed due to slickness.
Does not discolor plastics, however, test on small area of colored materials to ensure product does not cause discoloration.
How often do I apply Lizard-X Organic Bio-Spray?
Reapply biweekly for most applications.
Reapply each week where product is used outdoors or where excessive cleaning or weathering may occur.
Click  buy now,  if the above Green Bio-repellent product matches your current pest problem.